New Plus Label: Harper & Liv
It seems like not that long ago, there were only a handful of plus size brands available, all with the same boring, dowdy styles. There has been much improvement in the past few years, but there are still holes to fill before plus has the same range and breadth of styles available in straight sizes. New plus size label Harper + Liv saw one of those holes, and set out to fill it with well-made, on trend pieces aimed at the stylish millennial shopper.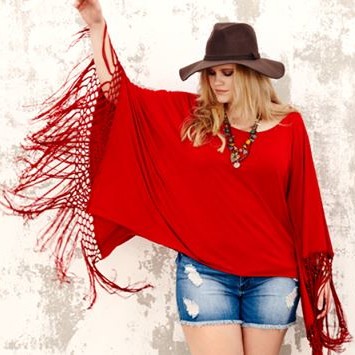 I was excited about this new label from the first lookbook teaser image I received in my inbox. The outfit, with a crop top, body con printed skirt, and an oversized patterned kimono, looked like something I would put together myself.
The full, festival-fashion influenced summer line is launching on Dillard's this month (and will be in stores too!). A bunch of the pieces are live and shoppable now, including the amazing crochet tank that I couldn't stop fawning over at the preview.
It looks so high end and it is only $59!  The attention to detail is what I'd expect from a brand who'd retails for way more, a la Haute Hippie or some of the better labels at Anthropologie.
The in-pleat print contrast on the batwing kimono is another example of how they are really thinking about the design of each piece.  I've yet to try any pieces on, but knowing that their head designer is a plus size woman – something rarer than you might think in plus fashion – gives me a lot of comfort.  Talking to her had me more excited than ever: She is so passionate about making Harper & Liv a quality, on-trend line, and I love it.
Click through the slideshow below for all Harper & Liv pieces now available online: 
I'm going to be stalking the Dillard's website for these upcoming pieces from the summer collection too (especially this tie dye romper, which needs to be in my life!). The red fringe top above is on my list as well.
Harper & Liv will also be in Macy's later this year, and in 20 Lord & Taylor stores (including their 5th Avenue NYC flagship) this fall.  I am so looking forward to the fall and holiday collections: As I said at the preview, Harper & Liv has wildly different pieces for each season, but they are all for the same "girl" (and that girl is me).  Whether its festival fashion now or a formal romper (!!!) for holiday parties, the line is cohesive and directional in a way many plus labels are not.
Which piece is your favorite?  Let me know in the comments!