Asymmetric Bodysuit by Premme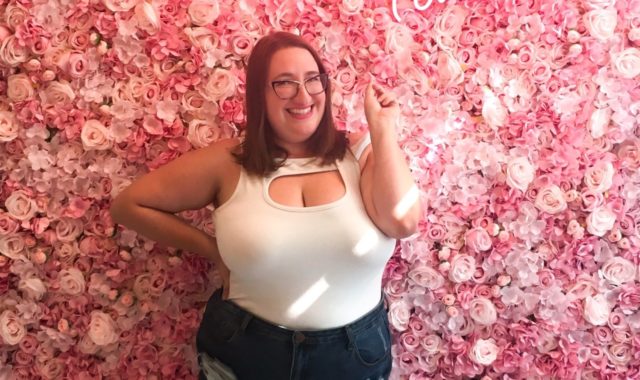 Gabi Gregg and Nicolette Mason are two of my longtime blogger favorites, so the moment I heard they were launching their own label Premme I got HYPED.  Both of these women are stylish AF, and all about pushing back on outdated fashion rules – indeed, they were part of the group of women that inspired me to start Curvily.  So I was not surprised to see their first collection addressing some of the gaps in the plus size market.  I also loved that they use models larger than the usual size 14 on their shop, and they all look amazing:
I actually set an alarm to shop when the store launched at 8am a few weeks ago, and I was not alone: The overwhelming demand crashed their well-prepared site almost immediately.  As soon as they were able to get it back up, style after style sold out (including the gorgeous denim dress above, now back in stock).  I was able to snag the asymmetric ribbed bodysuit I had my eye on (I wanted more than that, but student loans won't let me have the shopping budget I want *sob*).
Fortunately, when I got the bodysuit in the mail, it was everything I expected.  The quality is so much better than the fast fashion bodysuits I've seen – I mean, it is white but actually opaque (which always seems like a miracle).  The attention to detail continues all the way to snap closure in the gusset – the snaps are a good size and stay firmly snapped, and don't require a lot of frustrated fiddling like so many others I've tried.
The asymmetric sleeve detail elevates the piece from a basic to a statement piece.  I wore it with my go-to strapless bra from Bare Necessities and my favorite high-waisted cutoffs for a day of brunching and strolling around the West Village with my friends Liz and Anna.
Candid from the actual moment we started cracking up because we all broke our pose to coo over a cute dog
After brunch, we stumbled across a cute spot called Sweet Time Dessert – turns out it just opened the day before.  Everything looked delicious.  We were too full to indulge, but I will be back, if only for this perfect Instagram wall.
The weather was perfect, so Liz and I ended up just strolling around for a few more hours.  I'm excited for fall, but I will miss these types of summer NYC days.  I will also be adding more Premme to my wardrobe, because I am seriously loving this piece – great work Gabi and Nicolette!
Outfit Details:
Asymmetric bodysuit: Premme
High-waisted cutoffs: Boohoo
Silver mules: Attention (on sale for $11!)