There is something wonderful about getting on a plane in dreary weather and landing in a sunny paradise.  When we snagged $230 RT tickets to California, I knew that I wanted to make the most of this by spending at least one day lounging by (and in) the pool.  So making our first trip to Palm Springs, where temps hit the 90's in April, seemed like a plan.  Nature cooperated, and we were graced with two days of flawless summer weather.
The Saguaro Hotel is as bright as the desert sun, and their giant pool was everything I hoped for.
Sipping frozen drinks and lounging in a floating flamingo?  Yes and yes.
The poolside bar also offered quick eats for refueling from all this strenuous relaxation 😉  These nopales (i.e. cactus!) tacos were delicious:
I may or may not have waited 30 minutes before getting back in the pool.
Being jetlagged New Yorkers, we were up and dressed before the pool actually opened the second day, so we took advantage of the rest of the grounds.
All the Valley of the Dolls vibes
All the colors
I'll never tell you who won three rounds of ping pong.
*action shot*
This rainbow desert oasis was the perfect place to debut my new Gabi Fresh for Swimsuits for All bikini.  I've gotten one from every collection she's had since the debut of the collab four years ago.  This year, the vibrant color and fun adjustable details made the Wish Bikini the winner.
Bonus: It comes in a range of cup sizes!  As for swim sizing, I always size up one from my clothing size for this collection, and the fit was spot on.
You can wrap the ties any way you want, effectively giving you a few different suits in one.  The structure of the base of the suit keeps everything in place though!
Even in the G/H cup option, there was a little spillover for me, but it was not enough to worry about – I never felt in danger of a wardrobe malfunction, even while jumping in to the pool.
A plus of waking up early was getting my pick of seats – this iconic Palm Springs hotel fills up fast, and the pool follows suit.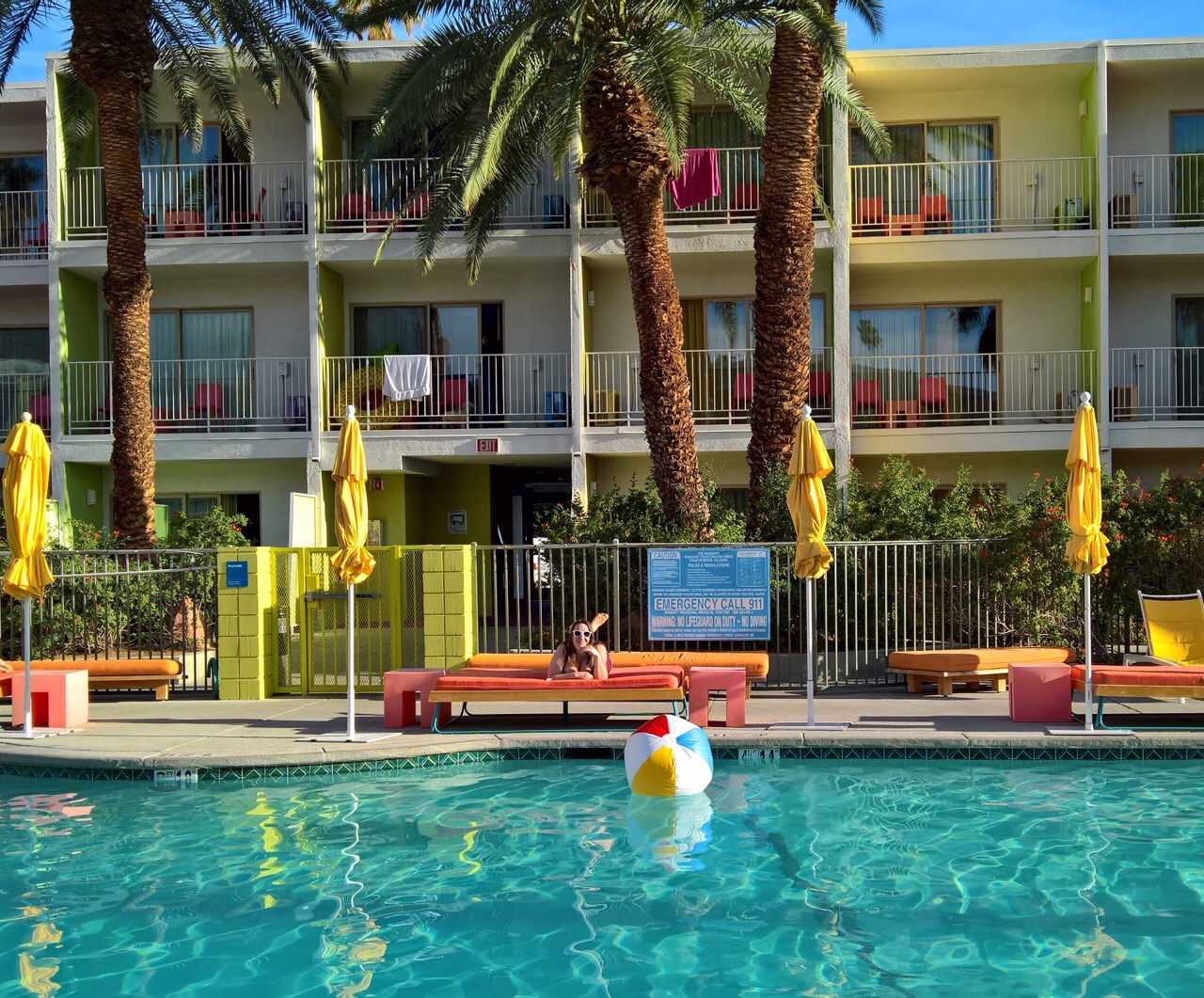 Tip: Go at pool opening if you want to snag a beach bed.
The Saguaro was perfect for a fun pool weekend, and my Gabi Fresh suit was even better in design and construction than previous years.  Check out the full 2017 collection here, and tell me your favorite below!