The Ultimate 2022 Plus Size Swimwear Guide: 52 Cute Swimsuit Brands in Plus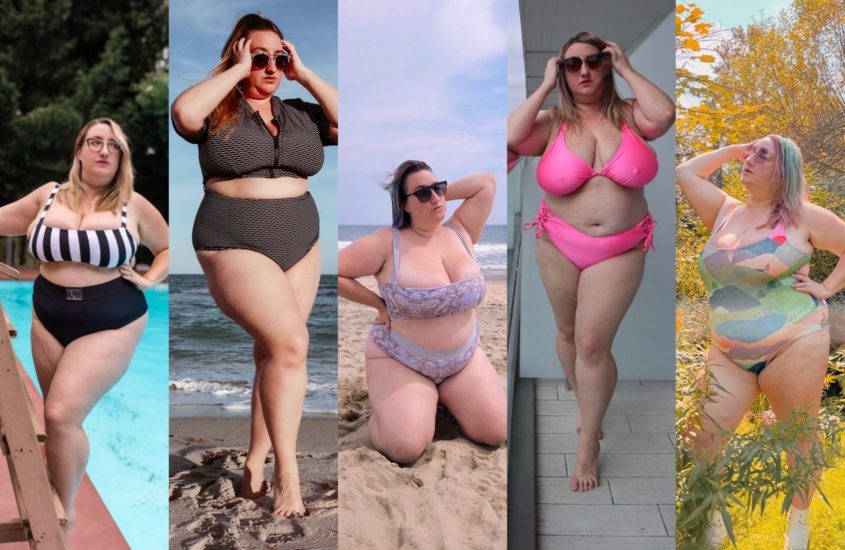 Shopping for swim used to be the bane of my existence. Despite loving the beach, between my own internalized fatphobia, and the industry only offering boring, frumpy styles, I felt like I wasn't meant to feel confident in swimwear.
Thankfully, my summers are a completely different experience now. Unlearning a lot of the body shame we grew up with definitely took a lot of mental and emotional work, but has been oh so worth it. And finally, importantly: The plus size swim market is catching up with options that encourage feeling good in our bodies (not trying to camouflage them). If anything, there are so many choices that it can be a little overwhelming (definitely a better problem though, IMO!)
I get so many questions about where to shop plus swimwear, so I decided to put together a comprehensive plus size swim guide for my readers, with all my tried and true recommendations in one place, along with all the brands on my to-try list and more. This guide includes a broad range of price points, sizes, aesthetics, and support and coverage from minimal to bra-level.
As always, if you find something you love here, it is so appreciated if you use my link/code to shop: It supports the blog, and lets me invest the time needed to write these big comprehensive guides like this one!
Alpine Butterfly / Chromat / Nomads Swimwear / Curvy Beach / Samantha Pleet
Tried and True Swim Faves:
Alpine Butterfly (XS-6X) for unique designer swimwear that ranges from sweet to sexy.  Since their launch, Alpine Butterfly has centered plus size bodies (they actually launched as a plus-only company!). Over the last few years, they've continued to expand their size range, support the plus size community (they sponsored the first New York City Plus beach day last year!), and use a range of size diverse models, including visibly plus size babes and those with body types that are often ignored even in the plus industry. The styles are also just so good, and their classic BFF bikini offers great support while still looking HOT.  They are always one of my top plus size swim recs.
Curvy Beach (8-26) for the original plus size string bikini (and the one that is still the best when it comes to fit)!.  If you told me a decade ago that I'd be regularly and comfortably wearing string bikinis, I would have never believed you (I wasn't even ready for a high waisted bikini back then, TBH). But my first time wearing Curvy Beach was something of a spiritual experience, and still stands out in my mind as an important milestone in my self-love journey. I highly recommend their suits, both the classic string silhouettes and their new styles (including the scoop neck top and the best-fitting cheeky bottom I've ever tried). Since I've been a friend of the brand for years, I was also able to get a Curvily reader discount for you babes: Use code Curvily10 here to shop!
Chromat (XS-4X) for designer swimwear straight from the NYFW runway that is inclusive across the board. My very first Chromat fashion show, way back in 2014, surprised me with something that was nearly unprecedented at the time: The show opened with plus model Denise Bidot, and proceeded to include a range of body types the likes of which I had never seen at fashion week before. Since then, they've only continued to add beautiful diversity to their runways and campaigns, and have continued to expand their size range and innovate with their designs to make sure all types of #ChromatBabes can wear their swim. Their latest collection was created in collaboration with trans artist Tourmaline and includes options designed to comfortably accommodate non-cis bodies all while keeping the hotness of Chromat's designs present. And their quality is excellent – I still regularly wear the very first suit I got from them back in 2017. I'm so happy to be able to offer an exclusive discount code for my readers: Use curvily15 at checkout for a discount on the Chromat site.
Cacique (12-36) for a range of styles from a company that is all about fitting and supporting plus size bodies.  Cacique is Lane Bryant's swim and lingerie brand, and just like with their main line, their swim styles offer something for a broad range of plus size women. They have skirted tankinis and higher neck styles if you are looking for more coverage, but they also have some hot string bikinis and strappy monokinis if you are looking for something more daring or sexy.  They also bring their bra fit expertise to their cup sized swim, so if you are looking for something with lift and separation, definitely go for a cup sized style. One thing to note: A lot of their trendier styles sell out earlier in the season, so shop ASAP for the best selection.
Fashion to Figure (12-28) for on-trend swimwear, including collabs with plus fashion faves. If you are looking for a HOT swimsuit, FTF is a great place to start. Their overall aesthetic is a combo of trendy and body flaunting, and their swim keeps that vibe going, including some hot coverups that would be perfect for a South Beach strut. They also do regular collabs with plus fashion faves – most recently, they did a resort collab with Chastity Garner of Garnerstyle that included swim, and I love this ruffly monokini so much.
ASOS (12-26) for a huge selection of plus size swim, including their own ASOS label and lots of European high street brands that are hard to find in the US. As someone who has a very large (and very heavy) bust, I usually tend to shop swim with a firm eye to function and support, so it took me a long time to actually try ASOS – though I love them for clothes and shoes, I assumed that their swim wouldn't work for me. But after seeing my blogger friend Kellie Brown look absolutely amazing in a white broderie bikini from them, I finally ordered one, and I am so glad I did. I wouldn't recommend their string bikinis for any sort of intense beach activity, but for looking cute? Absolutely.
Eloquii (14-28) for trending prints and cuts made specifically for plus size bodies. Eloquii is one of my go-tos for current trends that are often not available elsewhere in plus in general, and their swim hits a lot of the same notes.
Nomads Swimwear (XS-5X) After years in the industry as a plus model, founder Taylor Long got sick of the boring swim options she kept having to model, and decided to create the type of suits she actually wanted to wear. The result is a cool line of swimsuits that are travel-inspired and minimal without being boring. Some suits are even reversible, and there are also fun coverups if you want to go for a matching moment.
Hayley Elsaesser (XS-3X) for unique and cheeky prints in eye-catching colors from a cool Canadian indie designer. I first saw Hayley Elsaesser's designs at NYFW years ago, and I was immediately smitten with her bold aesthetic. I've built up a collection of tees and dresses since, so when she launched swim I knew I had to have it – and it did not disappoint. Both the one pieces and the bikinis fit comfortably and securely (like I'm able to swim in ocean waves comfortably in them). Because of my long relationship with the brand, I was able to get an exclusive reader discount code for you: Just use code CURVILY for 20% off on their site.
Fabletics (XXS-4x) just launched swim last month, and I happened to be by a store when they did – so I of course did a little #inthefittingroom to test it out. Some of the styles in their trendier swim line did not really work for my bust size, but the high cut one piece is perfectly on trend and comes in some great colors, so I ended up ordering the lilac version of it later.  As with everything Fabletics, you can join their monthly VIP subscription for a big discount, or you can pay the regular price. I used the introductory discount to get this suit and some items from Lizzo's new line Yitty that the same day, so if you are going to join, I definitely recommend getting everything you want at that intro discount (which is the best one).
Bruna Malucelli (XS-4X) for luxe textured designer swimwear.  If you want your swimsuit to have substance and be unlike any other suit on the beach, Bruna Malucelli's designer swim label is a great bet. The fabrics are rich and textured (as noted on their site, the collection is "made with bouclé with elastane, a never before used fabric in the swimwear industry"), and include unique details like hand-embroidered pom poms. The high tech boucle fabric feels luxe on, and doesn't get weird when wet (I've swam in mine many times in both chlorine and saltwater with no issues). If you want to try their designs, I was able to get a reader discount for you: Just use code CURVILY.
Andie (XS-3X) for chic suits with fuller coverage options that don't feel dowdy. When I want more coverage at the beach, whether for frolicking in the waves or giving my sunburnt chest a break from the rays (because even sunscreen fails me sometimes), I reach for my snap front one piece from Andie Swim. The cut and ribbed fabric make it look like a bodysuit when worn under shorts (great for days when you are traveling to the beach or want to do something else afterwards), and the material feels comfortable and secure on. And the snaps STAY SNAPPED (something I've often struggled with in other swimsuits with snap closures). I also love that they sort styles based on bust support and bottom coverage, so you can find a combo that feels right to you. They also have long torso options in most of their suits, and extended their size range up to 30 in a few core styles for their Dia launch last year (limited availability left as of publishing, but worth checking out if you are above their usual size range).
Mara Hoffman (XS-3X) for sustainable designer swimsuits. Mara Hoffman has been a real pioneer in sustainable designer fashion, and extended their size range before many of their peers even considered it. I've been a fan of their clothes for a while, but I just recently had a chance to try out their swim at their Nolita store. I really appreciate that while the plus size suits are graded for plus bodies, that is the only difference from the straight size styles (one of my least favorite things is when a brand adds weird unnecessary frills or coverage for larger sizes).
Samantha Pleet for a cool indie designer offering swim with unique prints (and accessories to match). A couple of years ago, I saw an ad for Samantha Pleet, a designer I'd admired from afar since she first launched to countless accolades in the aughts. I immediately loved her new designs, and figured I'd have to ask for #plussizeplease, but I was pleasantly surprised to see that she was already offering extended sizing. She has further expanded her size range since, continuing to invest in her plus size fit, and the results have been amazing. Every year she offers a small collection of swim in some of her signature prints and cuts, sometimes with coordinating accessories. One thing to note: Their original prints often sell out quickly, so don't wait too long if you really love a piece (something I learned the hard way!)
Lushious World (XS-5X) for the newest designer swim in plus. This brand just launched this month, and I got to try out a couple of their new pieces. Their signature one piece fit is great, and the print is unlike anything else on the market. I haven't had a chance to wear it to the beach yet for a full test, but it is selling out fast in this print, so I want to let you know about it ASAP.
Curvy Kate (cup sizes 28D-44I) for supportive bra-sized swimwear for full busts. This UK-based bra brand is a long time fave of mine, and their swimsuits offer the same lift and support as their bras. It is so rare to find cute options for cup sizes beyond E, so I really appreciate that they go up to a US I cup – just make sure to convert from your UK size when ordering! P.S. I was able to get a limited Curvily reader discount code, but it's only valid for the first 20 users: Just enter BRASWIMCURVILY at checkout on their site!
Kitty & Vibe (00-28) for trendy prints and styles cut for different booty types! There's a lot of swim that focuses on bust fit (for good reason!), but butts vary just as much as boobs, and I love that indie swim brand Kitty & Vibe designed their suits with that in mind. They offer two different cuts for different butt shapes, so you don't have to deal with gapping or pinching. You can also shop their suits on Dia for easy returns and sizes up 5x.
Londre Bodywear (XS-5XL) for cool minimal suits that even caught Beyonce's eye (!!!) If you are looking for luxe thick swim fabric in sexy cuts (like a deep scoop back), Londre is a great place to check out. I tried out a tie waist bikini and their signature open back The Minimalist style and felt great in both of them – and apparently, I'm in good company: The Londre founders recently made a Tiktok in deep and completely warranted excitement because none other than Beyonce herself requested a suit from them! Can't wait to twin with Queen Bey 🙂
Old Navy (XS-4X) for cute, affordable options – and the possibility of picking up in-store. Last year Old Navy made the very smart decision to start carrying their full size range in all styles, both in store and online. Now that it is swim season, this makes finding a suit you can buy IRL much more possible.  Personally, shopping in store at Old Navy can be a little overwhelming, so I'm a big fan of buying online for in-store pick up (a good option to have if you need a suit ASAP).
Boohoo (12-28) for cheap and trendy plus swim options. Boohoo swim is definitely a lower price point (their constant 50%+ off sales typically keep most suit prices under $20), but the price isn't the only thing that's cheap – the fit and quality is wildly inconsistent.  For example, this strappy monokini looked interesting enough to take a gamble on for $12, but I wouldn't wear it for anything but the laziest day lounging by a pool – the weird fit makes the likelihood of a wardrobe malfunction way too high. But I do have some suits I like from them, so its definitely an option to check out if you are shopping on a budget.
Nasty Gal is owned by the same company as Boohoo, and the above notes about pricing, sizing, and support (or lack thereof) all pretty much hold true here too – the plus swim selection at Nasty Gal is just much more limited.
Modcloth for playful, cutesy swimwear. If "vintage" is a word that could accurately describe your aesthetic, Modcloth is a great option for swim (because finding true vintage plus size swim is nearly impossible).
SwimSuitsForAll for a broad range of sizes and styles. I was first introduced to S4A nine years ago when blogger Gabi Gregg debuted her revolutionary collab with the fatkini that made waves around the world. Since then, I've gotten at least one suit from each Gabifresh collab each year (and quite a few from their relatively newer collab with supermodel Ashley Graham too). If I was writing this swim guide last year, they would have been much higher on the list on the strength of those collabs alone (see: this Reel about how Gabi's fatkini literally changed my life); but it appears they are not currently doing new collabs with any plus bloggers or models, and while their new swim collab with Sports Illustrated Swim model Camille Kostek is very cute, it for some reason only goes up to a size 2xl – not exactly living up to the "For All" part of their name! They do have some cute bikinis and one pieces mixed in with the endless skirted tankinis in their main line, but their plus size collabs have always been what set them apart, so I truly hope they listen and go back to what the plus community actually wants soon.
Swim on my To-Try List:
Unique Vintage (XS-3X) is a brand I've known of for a while, but since pin-up style isn't my personal aesthetic, they haven't become a go-to for me. But after checking out their swim options for this guide, I think that is going to have to change! They have a large selection of hot bikinis, retro inspired one pieces, and – true to their name – some wonderfully unique options, from a full gold lame suit to an incredible cheeky Jaws maillot.
J.Crew (XXS-3X) has always been synonymous with classic and cute swim for me (I used to pore over their catalogues as a kid!), so I'm really excited to see that their ongoing size expansion means there is now plus size J.Crew swim. I just ordered this chic Hamptons-ready striped one piece, and I can't wait to see how it fits – I'll post on Instagram once I get it!
Wray NYC (XXS-6XL) is one of my favorite indie designers lately, with unique, eminently wearable pieces (I've been wearing a flowy dress of theirs out ever since I got it), and their swim is next on my to-do list. With a great size range and a steady and ongoing commitment to shoot both product shots and campaigns on a variety of models, including visibly plus size ones, I always can get a good idea of what their pieces will look like on me, and the behind the scenes of their upcoming swim collection I saw on their IG Stories lately has me excited for their next launch.
Elomi (cup sizes 34E-44K) I've been a fan of Elomi bras for ages now – they are always one of my top recs for underwire bras for very full busts – but I somehow have never tried their swim! I trust their fit, sizing, and support though, and their styles this season are super cute. Just make sure to convert from your UK bra size while ordering! (Bare Necessities has a good tool for this, and offers real chat support if needed).
Adore Me (XS-4X) is another lingerie brand that has expanded into swim, and every time I've seen my friends in one of their suits it just reminds me that I need to try them. They have a variety of cuts and prints in plus, with fits that celebrate the body instead of hiding it.  Their size chart also looks promising, with an updated plus fit that seems spot-on in my size (2x or 18/20). I think I'll be putting an order in soon!
SmartGlamour (XXS-15X) for the most inclusive swimwear line in existence. I rarely use the term "size inclusive" because it is often inaccurate – even sizing up to 6x or 7x is leaving some people out, but SmartGlamour can claim the label with accuracy. With a standard size range up to 15x and customizations available, this woman-owned company can make something for every body – and their imagery reflects that inclusion. SmartGlamour is a small business and suits are made to order, meaning you can choose the exact fabric and fit you want, but make sure to order in advance to give time for production.
Monif C. (14W-24W) One of the original innovative plus size swim brands, Monif C. was making colorful, sexy swim suits for plus size bodies back when skirted back tankinis were basically the only game in town. They recently relaunched a limited swim collection with one of their revolutionary cut out silhouettes in a variety of colors and prints.
Snag Tights (2-34) This UK tights brand launched swim last summer, and made a splash with their fun styles and excellent size range. Their campaigns are always beautifully size diverse, and their price point is affordable too.
City Chic (12-24) This Australian brand is a plus size powerhouse, with a broad selection of everything from dresses to outerwear to swim – the latter being the only thing I've yet to try from them. But everything I've heard about their swim from my plus blogger friends is positive, and they have some really cute styles in vibrant colors, so they are definitely on my list!
Mango (XS-4XL) While Mango has offered plus sizes for a while now, until recently. they did so under a plus-specific sublabel called Violeta, which had different styles from their core line. The whole time, I've just been wanting the same Mango styles in plus sizes, so I was so happy to see that they've finally done just that! Now Mango plus size is just Mango with plus size proportions, and I'm so excited to try it out. Their swim selection is still on the smaller side, but there are some really fun styles available, ranging from skimpy to more covered up.
Tanya Taylor (XS-3X) I've been a fan of Tanya Taylor's fun prints and joyful use of colors in clothing for a while now, so I'm so happy they now have a full line of swim with the same vibrant aesthetic.
Rebdolls (S-5X) for a woman owned company with trendy styles and a great size range. I've known Rebdolls founder Grisel almost as long as I've been blogging – I met her at a plus closet sale back when she was plus model and I was still posting on Tumblr (!!!). She has turned Rebdolls into a huge company, and did it with a commitment to including plus from the outset, at a time when no one in the fashion industry took plus seriously. I love seeing them thrive, and their new swim line keeps their trendy, body flaunting aethestic going, so I can't want to try it out.
Show Me Your Mumu (XS-3X) This beachy dress brand known for their Cali girl vibes recently expanded their size range into plus, and they've started including plus in their swim too with a couple of recent collabs (including the most recent one with Barbie – yes, that Barbie!).
Dippin Daisy's (XS-3X) I'm so happy to see that this cool girl fave swimwear brand has expanded into plus sizes, and doing it the way I want all companies to: By making the same styles across size ranges. However, a quick perusal of their size chart indicates that they still have work to do, as the measurements for the 3X look to be closer to a plus size 20W (not the 26W they indicate). So if you are ordering here, make sure to go by measurements, not your usual size.
Saint Somebody (8-20) This Australian indie designer label has a smaller size range than most of the brands here, but they claim to be sized generously, and their top size (US 20) actually has larger measurements than Dippin Daisy's 3X, so I think it is only fair to include them as an option here (and also let this serve as a reminder to always, always check the size chart!) Their designs are minimal and luxe, and make me want to book a flight to the South of France immediately.
Nakimuli (S-3X) has been making cool, fashion-forward swim in plus sizes long before many larger companies even thought about it, and their signature Bright Delight convertible suit is such a cool piece.
Peachy Keen (XS-5X) is a cool woman-owned swim brand that launched recently with an excellent size range and cute bikinis and one pieces (including a convertible top that I'm eyeing), all made from recycled fabrics. I look forward to trying their styles out!
Summersalt (0-22) had some incredible billboards in NYC a couple of summers back, with a variety of body types in their bold colorblock suits (which I loved to see), all with the tagline "swim for EVERY body" (which I would have loved if the size range actually lined up!). Stopping at 22 isn't size inclusive, and I'm always wary of language that leaves out people on the larger end of plus. They have some great suits that look good on a variety of body types, and I know a lot of plus babes above a 22 who would love to shop them, so hopefully they keep expanding so they can truly live up to that tagline!
Girlfriend Collective (XXS-6XL) This buzzy sustainable athleisure brand just launched their first swim collection, and I'm looking forward to trying it out. Whenever I do, I will be paying close attention to the size chart, as the clothing I have from their main line all runs small – so definitely go by your measurements, not your usual size!
Artesands (8-20 US) This Australian swim label has a stated mission of being all about curves and fitting their suits exclusively on plus bodies, which I appreciate. As is often the case with Australian brands, however, the size conversion means their top size (AUS 24) is actually a US 20. But if you are in their size range, the cuts and silhouettes look thoughtfully done, and they have some really cute prints. With over 150 of their styles available at Nordstrom, I'd definitely recommend shopping them there (easy returns if needed!)
Hillary MacMillan (XS-4X) is a cool independent designer from Toronto whose main collection has been on my to-try list for a while, so I am excited to see that they just launched their first swim collection.
Bella Rene (M-10XL) for indie designer swim with an excellent size range. I first saw Bella Rene at NYFW, and they just launched their first swim collection this season, keeping their eye catching and body celebrating aesthetic throughout. I love the unique fringe front suit, and the coordinating resort wear for a full poolside glam moment. I'm looking forward to trying them out.
Goldessess (4-20) I found this new luxe modern swim brand on Insta, and I've been eyeing their gorgeous styles ever since. If you order, keep in mind the sizing on their site is UK sizing, so make sure to convert to your correct size (i.e. a UK size 22 is a US size 18).
Anthropologie (0-26W) Their swim selection is on the smaller side in plus, but they have some really cute options in some very Anthro prints. They also have a lot of really fun beach and resort wear – browsing their site always has me ready for a vacation TBH.
Toluca Swim (00-28) I just heard about this new swim brand, and their designs look really promising – very young and on trend. They are having a tempting sale right now too, so I might have to try one out sooner than later.
Bare Necessities (up to 42I cup size) If you have a full bust and are looking for bra-sized swimwear options, the bra fit experts at Bare Necessities might be able to help. I've never tried the swimwear from their Birdsong label, but with options up to a 42I cup, they look promising.  The bottom styles are limited in true plus though, so they might be best for mixing and matching
Other Plus Size Swim Options:
Good American (00-28, though most swim only goes to 24) I have a lot of complex feelings about Good American, particularly the juxtaposition of co-founder Khloe Kardashian's frequent fatphobia (internalized and otherwise), and GA claiming to "represent body acceptance." But they do make excellent denim, and I've heard good things about their swim, so I want to include it as an option in case they have what you are looking for.  You can also sometimes find it on sale on Nordstrom and Nordstrom Rack too, if you are unsure about the fit and want to get it from someplace with easy returns.
Skims (XS-4X) You can basically copy and paste my thoughts about Good American for Skims (just swap out Khloe's name for Kim; and note that Kim's fatphobia isn't really internalized, just monetized). I don't love that two of the top selling plus size brands are from a family that profits off of body shame, and am really glad that Lizzo has stepped up to be a competitor for Skims with her new brand Yitty, but unfortunately she hasn't yet launched swim, so I'm including the Skims swim as an option here – some of the styles DO look cute. *insert shrug emoji*
Land's End (00-26W) If you are looking for swim in more conservative cuts with features like chlorine resistance and full bottom coverage, Land's End is a good option. I can tell you from experience that their suits last (I just donated one I had for decades recently, still in great condition!), and while most of their styles aren't my aesthetic, they do have some cute options that make a lot of sense for an active day at the beach (like their signature Tugless Tank one piece that is meant to stay firmly in place).
If you have questions, come chat with me on Instagram – I'll be talking about swim and sharing specific suit reviews all summer!