Fall Florals with City Chic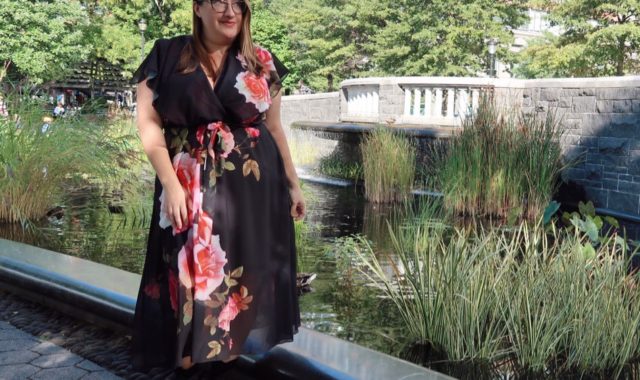 #sponsored  #MacysLove  This post sponsored by Macy's. All thoughts and opinions my own, as always!
There is nothing like a beautiful crisp autumn day.  I'm a summer baby, and few things make me happier than a day at the beach, but the fashion girl in me has to admit that fall is by far the best for style.
I particularly love pieces that can take me through that tricky fall transitional weather.  This year has already had a bunch of 80 degree October days, but I don't want to just keep wearing my summer looks when I'm in the mindset for hot apple cider and cozy vibes.
Though nowhere near as cliche or expected as for spring (groundbreaking), fall florals have become a style staple.  With a dark background and cheery pop of color, this print is perfect for ringing in the season.
I love the oversized rose print on this City Chic midi dress I picked up at Macy's.  The wrap top and cape sleeves add a little drama, but the split in the sleeves means it is still great for layering – I'll be adding a leather moto jacket to this dress as the temperatures drop, something I couldn't do comfortably if the sleeves were a classic cape (and this is speaking from previous failed cape layering experience!)
Paired with suede ankle boots, this floaty dress is perfect for gorgeous fall days exploring the city.  I was walking around downtown by Brookfield Place enjoying the contrast of the beautiful crisp air and my hot coffee when Liz and I stumbled across this gorgeous little hidden oasis next to the waterfront.  It was so pleasant and peaceful that we ended up sitting there and watching the the ducks for a while.  I love that I am still being surprised by New York after being here for more than a decade!
Macy's has a great selection of dark floral City Chic dresses for fall, but if it is your first time ordering from the brand, it is important to get familiar with their unique sizing system.  City Chic is a plus size brand, but their sizing ranges from an XS (14W) to XXL (24W).  Shopping Macy's online makes it easier, as they list just the numeric sizes we are accustomed to, but I just wanted to give you a heads up so you aren't thrown off by seeing "M" on a size 18W dress in stores!  I typically wear a size M/18 in City Chic, but they only had a L/20 in this dress when I went to get it, and it ended up working out. It might have been a little snug on the bust in my usual M, but otherwise this dress seems to run true to size.
Have you tried fall florals?  Whether you are a newbie to this trend or it is a staple for you too, this City Chic dress is a great autumn transitional piece to add to your wardrobe.  Shop my dress here, and let me know if you have any styling questions!