Trying the New J.Crew Plus Size Denim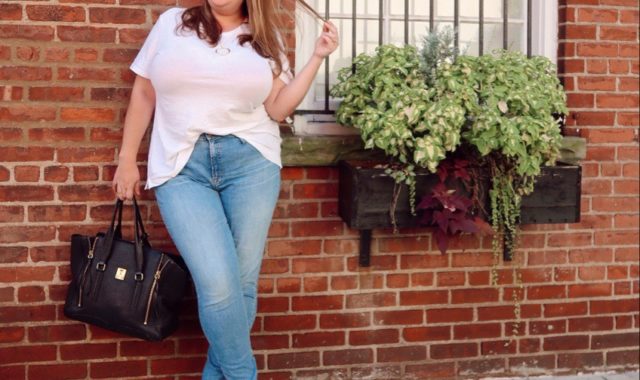 When I started the #plussizeplease hashtag movement almost 4.5 years ago (!!!), one of the most-demanded retailers was J.Crew.  So many people wanted access to pieces from the classic American label, but their size range cut off just below plus.
Wearing the new plus size denim from J.Crew
Earlier this year, I heard rumblings from my fellow blogger babes about some random pieces from J.Crew starting to show up in plus, but it wasn't until the launch of the Universal Standard x J.Crew collab that things seemed to be really changing.  I did an #inthefittingroom on Instagram after the launch, and it was great to see floor space dedicated to plus.  The J.Crew fitting room experience at their flagship store on Fifth Avenue was excellent, too!
When I heard that J.Crew is continuing to expand more of their collection into plus, I expected to find more of the items in store. Unfortunately, it seems like for now, the extended sizes are online-only in most locations.  Denim is one of those things that can be tricky fit-wise, so when I got a chance to try it out, I definitely wanted to share my thoughts with you lovely readers.
The size range expansion means J.Crew now offers jeans in denim sizes up to 37 (the equivalent of a 24W, per their denim size chart).  I'm typically a 16/18 in denim, but based on waist size, their denim size chart said I would be a 20/denim size 35.  I saw that the denim had stretch, so to be safe I also tried a size 18/denim size 34.
I ended up going with the size 34 denim, even though the stated natural waist measurement is a couple of inches smaller than my own.  The 35 fit too, but were gathering weirdly at the crotch and there was visibly too much fabric in the leg.  The pair I'm wearing in these pics (and the one I am keeping) is a 34.
This style is one of J.Crew's core cuts, the 9 Inch High Rise Toothpick. It is a classic skinny cut and length.  I am on the shorter side at 5'4″, so there was a little bit of gathering at the ankles on me, but nothing that necessitates cuffing (though I will be wearing these rolled up as well!)  There is a little stretch in the fabric but not too much – this pair felt snug in the waist when I put them on, but became perfectly comfortable over the course of the day.  This particular pair is their sustainable Eco Jean in Light Blue Wash, and same style comes in different colors and washes too. but there are many J.Crew styles that are now offered in their extended sizing in plus:

I'm particularly excited to try the straight leg button fly jeans and the high rise Pont Sur demi bootcut jeans. I really hope J.Crew puts their extended sizing in stores soon – women sizes 14 and up constitute the vast majority of the American market, after all.