I Tested "The Breast Friend," a New Bra-Saving Invention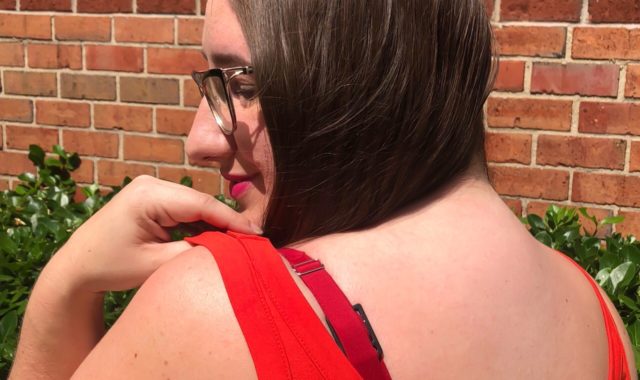 As someone with a large bra size, every bra I own is an investment.  With most of the quality bras in my size range averaging upwards of $65, I am incredibly reluctant to let go of favorites, even when they are past their prime.  Aside from the pain of being stabbed in the heart by a broken underwire, one of the most stressful things for me is when straps stretch out over time (or just weren't adjustable to a short enough length to begin with) and slide off my shoulders.  So when new company The Breast Friend (best name) reached out to me saying they had invented a solution to this annoying problem, I was immediately intrigued.  After seeing the product online, I was also skeptical it would work for my heavy boobs.
The Breast Friend is basically a small, reusable, external strap adjuster.  The patent-pending design makes logical sense, but I've experienced far too many broken bra parts to take its durability on faith.  So before I decided to write about them, I took The Breast Friend for a multi-week, real-life product test, wearing a pair while running (sometimes literally) all over NYC.  I am stringent about the products I recommend to my readers, so it had a high bar to meet.
That bar was surpassed! I tested The Breast Friend on a few different old favorites that had their straps stretched out over time.  On every bra, it worked.  The design is wide enough to accommodate the broader straps that are common with larger cup sizes, and The Breast Friend's construction is strong enough to stand up to regular and extended use, even on my 38L bust.
Left: Without TBF; Right: With TBF
It also provides noticeable lift, another claim I admit I was a bit skeptical about.  But from my first use of The Breast Friend, I could see the effect.  Of course, most of a bra's support is meant to come from the band, but having straps fit properly too can make all the difference.  The photos above are taken on the same day, with the same bra, and same everything – the only thing different from left to right is the addition of this ingenious little invention.
And just like that, bras that I loved but had been sitting unused in my drawer were back in rotation.  I am once again able to get use out of all that invested bra money that was previously laying dormant, and I can't tell you how satisfying that is.
After using The Breast Friend out for over a month now, I fully recommend it.  It works as advertised, is super affordable, solves a real problem, saves money almost instantly, and is actually completely unnoticeable on (I forgot I was using it most days during my test).  You can place it anywhere on the adjustable part of the bra strap too.  For demonstration purposes, I put it higher for these photos, and also used the black pair so it would be clearly visible (each order of The Breast Friend comes with 3 pairs: Black, "nude," and clear).  As I discuss in my IGTV video demonstration showing how TBF works, if you want it to be unobtrusive while wearing a strappy top, just use clear or a matching color and place it at the base of the strap.
Outfit details: Dress: Loft Plus / Bag: Min & Mon / Shoes: Christian Siriano / Bra: Brought back by The Breast Friend
It was really fun to be able to test out this new bra technology, and incredibly gratifying to be able to confirm that it does indeed work on larger busts.  I'm so happy with the results that I've partnered with The Breast Friend to give you an exclusive coupon code to try it out.  Order here and use code "curvily" to get $3 off your order, taking the price these incredibe little bra savers down to less than $10 for a set of three!
This post sponsored by TBF; all thoughts and opinions my own (as always)!