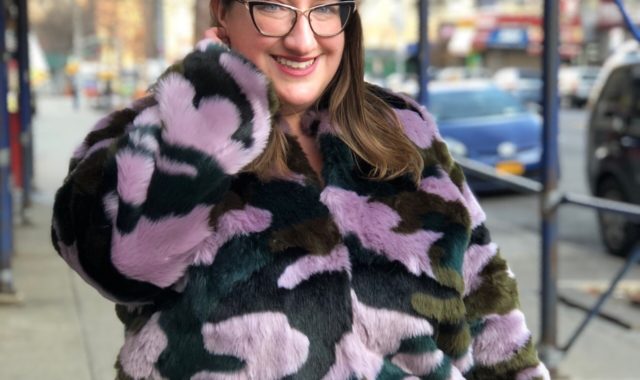 It is definitely bundle up weather, and this year I find myself eschewing basic black coats entirely.  If I am not in my bright puffer jacket or a pearl-embellished coat, I'm wearing an over-the-top statement fur.  Bold colors, fluffy textures, and patterns in the fur are all having a moment, so you can find the faux fur statement piece that is right for your own day to day.  If you want just a bit of color, I recommend the lovely blush pink from Ellos.  I've been lusting after the vibrant Zelie for She furs, and they are running a rare 30% off sale for the holidays now (coupon code 'HOLIDAYS' – natch):
The fun thing about statement furs is that they make fashion forward dressing easy – even a simple black outfit is instantly elevated when you put one on.
This striped fur from Rachel Rachel Roy has been one of my most worn pieces this season – it is surprisingly versatile and a serious compliment-magnet.  It is also marked WAY down at Lord & Taylor right now, so shop before it sells out.
I just got this lavender and forest camo faux fur from my first Dia & Co. box (review coming soon) and I am so into it.  The fur is wonderfully soft, and the color combo is just so unique and unexpected.
To help you find the perfect statement fur to spice up your winter looks, I've rounded up the rest of the fashion forward options in plus below:
Click through to shop, and let me know if you have any styling questions!