Sweater Weather with Torrid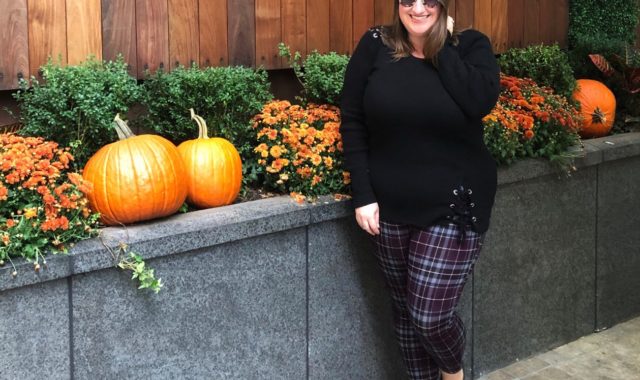 *Temperature drops slightly*
Me: Sweater weather! Hot coffee season! Boots! Apple cider! Plaid! Pumpkins! FALL!!!!!
I can't help it – autumn feels well overdue in NYC, and now that it is finally a bit cooler, I am embracing the fall spirit full-on.  This cozy grommet-accented sweater from Torrid is perfect for crisp fall days.
I love these cropped plaid pants too – they have a high waist and are a thick ponte material, so they can be worn as real pants or as leggings under boots.  Plaid is huge for fall, and I love this purple and grey colorway.
This is actually my first time ever wearing Torrid – we don't have one in Manhattan so I just haven't had a chance to get in store and browse around, and I didn't know what to expect.  Torrid sent me a few pieces to try, and I am impressed.  The fit on both of these pieces is true to size, and I love the cuts too – clearly constructed with curves in mind.  I tried a pair of jeans too and I am in love (post on those coming soon!)