I've been absolutely enamored with Rachel Roy's dark fall floral gown since I first saw it at Macy's – when I tried it on, I ended up twirling around the fitting room for almost half an hour because I just didn't want to take it off.  Unfortunately, at $199, I could not justify the purchase.  Fast forward a few weeks, and I received a reminder email for our good friend's wedding with the words "Formal Dress."  That was more than enough justification to make this beauty my own.  I decided to check out Rachel Roy's site directly before purchasing from Macy's, and I was in luck – it was on sale for half price!  It is on sale today too (on both sites), and selling out fast on both sites.
This dress was perfect for a formal fall event, and also let me live out my fall forest nymph fantasies.  It is the type of interesting gown I've so longed for in plus size, and it is finally here.
There was a long break between the ceremony and reception, so took advantage of it by frolicking in the fiery fall foliage and finding fun spots to shoot.
This old bridge was a particular favorite.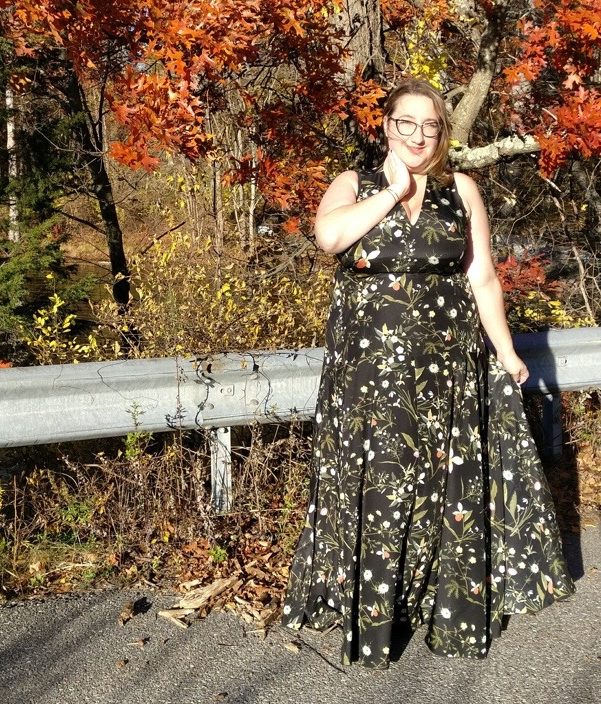 Direct sunlight was doing me no favors, but I love the vibrant colors of fall, and the pops of color in the unique floral on the dress.
I highly recommend shopping now if you are interested, as this is a piece that will wear well for years to come.  I'm so happy to have it in my closet!
Dress: Rachel Roy (also available at Macy's)
Mules: Boohoo (available in wide fit too)