OOTD: Gwynnie Bee and my Dream Dress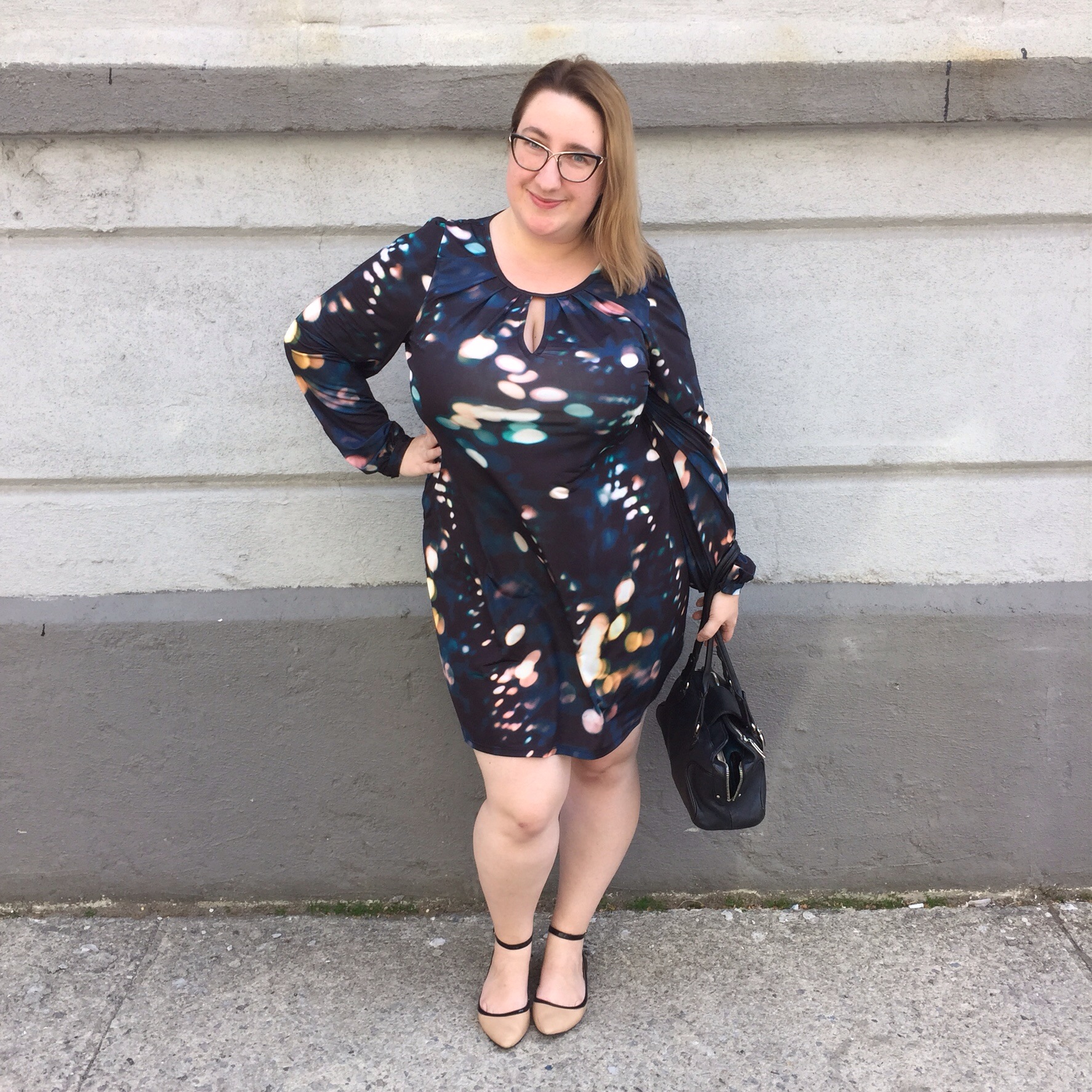 Years ago, when Pinterest *just* started to be thing, I was obsessed. I had a wedding planning board (of course), a home decor board, and a fashion board filled with designer clothes I loved from afar. One piece stood out in particular though: A gorgeous bokeh print dress from a random designer on Etsy. I had never seen a print like that on a dress before, and I HAD TO HAVE IT. There was one big problem though: it only came in straight sizes.  I hopefully checked my measurements against their size L and shed a single tear when I realized there was no way it would work.
Fast forward years later: I now no longer spend all my time lusting after clothes from designers that refuse to include my size, because I know about so many awesome plus size designers. So when I saw a chic little shift dress from Anna Scholz, with my unrequited love of the print variety, I rejoiced. Unfortunately, there was another problem this time: As much as I loved the dress, it was out of my price range.  Sad violin.
But then! I saw it in Gwynnie Bee's new arrivals, and I did a little happy dance (and immediately emailed them to add it to my priority list). When I got it in my GB package, the happy dance was literal: I was twirling around with glee all day. I finally got my dream bokeh dress, in my size and in my budget – even though it is a $400+ dollar dress, I got it as part of my monthly subscription plan.  I'm on the 5 item at a time plan, which typically gives me over a thousand dollars worth of clothes a month for a tiny fraction of that.  I get to try styles I'm not sure about, and ones I've wanted to wear forever, like this dream dress.  If I love a garment, I can keep it, with a serious discount off retail.  I'm strongly considering using Gwynnie Bee's Try Then Buy feature for this dress, but if I don't, I can just hold on to it for as long as I want to – as long as I'm a member, there are no due dates (something I definitely took advantage of over the winter with my statement coats).
I've been a Gwynnie Bee member for over 2.5 years now, and it brings more value to my wardrobe than anything else.  If you haven't tried it yet, you should definitely give it a shot.  Even better, the first month trial is free right now.  Just click the link below to subscribe.
Trendy Wardrobe Rental sizes 10-32. Get your first month free!