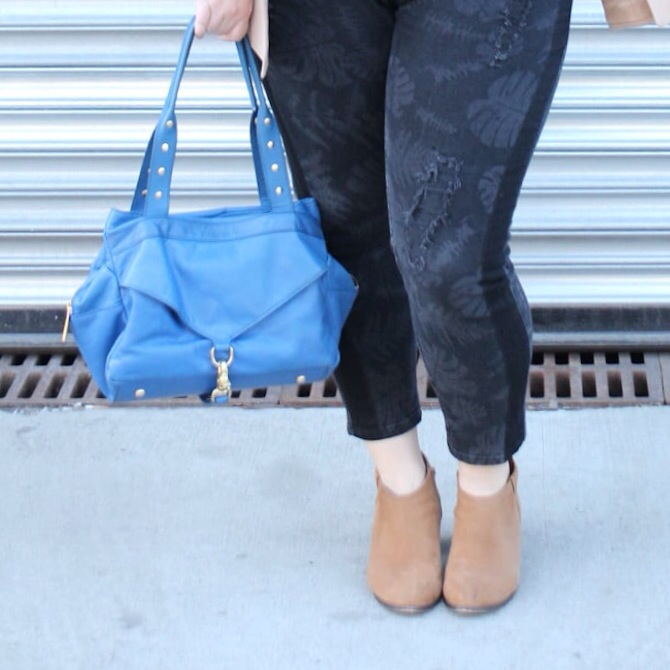 Carmakoma has been one of my favorite labels for years now: I discovered them through the first fatshion bloggers I started following back in 2012, and the more I've tried from them, the more I love them.  Their edgy, minimal aesthetic really appeals to my personal sense of style, and the quality is leaps and bounds above most fashion forward plus offerings – their perfectly fitting leather pants are one of my favorite items I own. So when Carmakoma announced their new denim sub-label, Carmakoma Jeans, I was psyched, to say the least.  Only a few styles have been released thus far, but they are all good.  I love that they are offering the perfect ripped black jeans, but these tonal palm print distressed jeans just had to be my first pair.
With the print, deliberate distressing, and the tuxedo stripe going down the side, these jeans sound like they have a lot going on, but it somehow all works.  The fit is impeccable – there is a bit of elastic in the back of the waistband, which means they fit both my waist and butt comfortably.  And that made all the difference: My butt looked amazing in these 🙂
I paired #MyCarmakomaJeans with my beloved Dior boyfriend blazer, a simple tank, and pops of cobalt to attend the Laforce Stevens fall preview, where I saw the perfect pair of Matt Bernson mules to wear with these jeans.  I know I really love a piece when I am planning outfits with it months in advance.  If you haven't tried out Carmakoma but you love designer denim, this new line is the reason to take the plunge.  I find the fit to be true to size, and generally awesome.   Shop Carmakoma Jeans here.
Camel wool blazer: Vintage Dior (via Housing Works Thrift Shop)
Palm print denim: Carmakoma Jeans
Black tank: H&M
Multichain necklace: Jenny Bird
Cobalt handbag: Botkier