Curvily Travels: Milan (Part 1)
When you take your first anniversary trip on your fourth wedding anniversary, it has to be epic. A trip through Europe spanning three countries certainly qualifies, and we more than made up for lost time bouncing through Milan, Marseille, and Barcelona. A little backstory as to how we got here: Over five years ago, when I started thinking about wedding dates, I was not blogging, and was not worried about planning around NYFW. I was just consulting almanacs to try to find the day most unlikely to rain (to no avail – we ended having a tornado and a torrential downpour on our outdoor wedding!). I definitely did not anticipate needing to planning around Fashion Week for our future wedding anniversaries, but that is exactly what happened. The following September, I got invited to my first official MBFW show, Cabiria, which was also the first time a plus size designer showed at the tents. I've attended every season of New York Fashion Week since, but always felt a bit guilty about missing our anniversary (even though my husband has always been supportive and understanding about it). So when I saw a flight deal for $459 roundtrip to Milan on Emirates on our anniversary, I knew it was time.
Happy starting the trip together on our Emirates flight – non-stop to Milan!
We'd both heard great things about flying Emirates, and the experience lived up to our high expectations. The service is attentive and friendly, and things that would cost extra on so many other airlines (meals, snacks, wine, extra wine) were all complimentary (and delicious). The in-seat entertainment system offered a huge selection of free movies and TV – my husband used the seven hour flight to catch up on all the superhero movies he'd missed this summer – as well as a variety of music and games. I'd highly recommend flying Emirates if you get a chance.
We were giddy with excitement (and burgeoning jetlag) by the time we landed. After clearing customs we took the airtrain (Malpensa Express) into the city, which is definitely the way to go if you are at all budget conscious (12€ per person, as opposed to a 90€+ cab ride).
I chose our first hotel, Hotel Charly, for its proximity to Centrale Station, so it was just short 5 minute walk once we arrived.
We glanced at the lovely garden (another deciding factor), then promptly broke our plan of not napping right away to stave off jetlag as we collapsed onto the bed.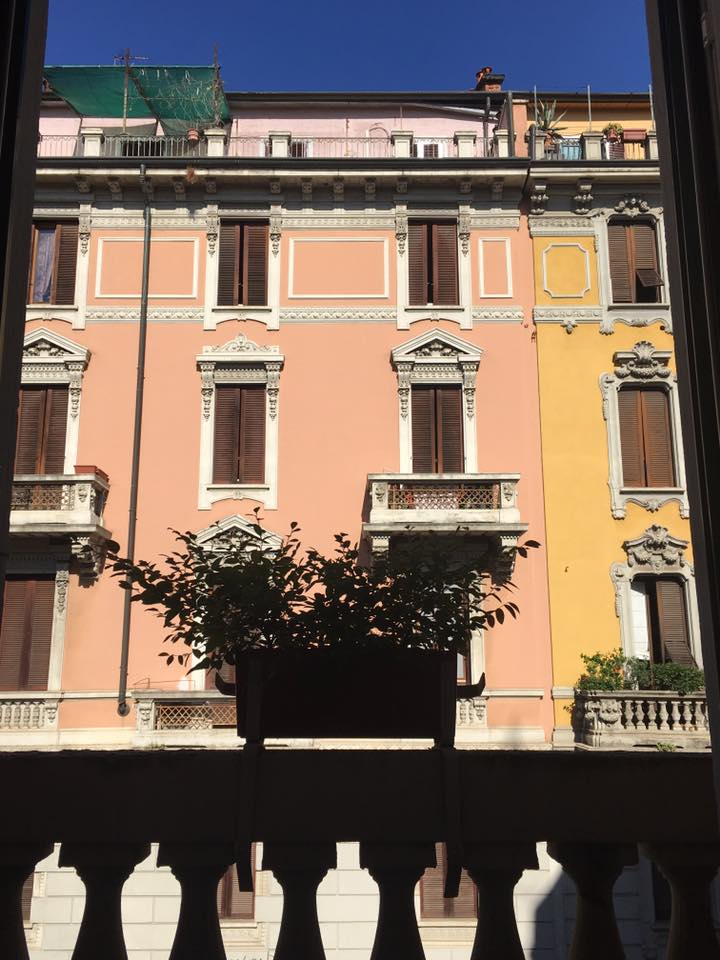 Fortunately, the room was bright and pleasant, and we only slept enough to rejuvenate ourselves to head out to explore. I stepped out onto our balcony to check the temperature while getting dressed, and had that fantastic start-of-vacation moment of excitement, where the possibilities are endless and adventure awaits.
Milan did not disappoint. As if welcoming me, the first graffiti we saw asked "Blog?" Why yes, Milan, I do! This "Easy Dress" from Eloquii lived up to its name -it was the perfect effortless and chic piece to wear in this fashion capital. I paired it with minimal flat mules by Christian Siriano for Payless. We strolled around, marveling at the ornate architecture, and were happy to discover that fresh pressed juices are prevalent and especially delicious in Europe (I literally had this reaction upon my first sip of juice from Ca'Puccino). We strolled around, picked up a European electrical outlet adapter (TIP: Buy one online in advance of your trip online to save $10+), and then it was time for my favorite Milanese tradition: Aperitivo hour.
Instead of discounts on drink prices, the Milan happy hour tradition is to offer snacks to pique your appetite for dinner (for which service typically starts no earlier than 7:00 pm). We missed lunch with our nap, and were thus ravenous by the time aperitivo hour began (around 5:30). So we decided to do something of an aperitivo hop to try a few different options. Our first stop was Riad Food Garden, a chic bistro with high ceilings and a clean white palette contrasting with pops of lush greenery. The atmosphere was so inviting that we had to stop in and ask for a drink menu (despite no easily discernible evidence of aperitivo offered). The friendly bartender instead asked us what types of drinks we liked, and said she would make something custom for us each.
She was so delightful that we forgot to ask the price of the cocktails – an omission that, as price-jaded New Yorkers, we couldn't help be slightly worried over. As we waited for our custom creations, a lovely fresh spread of vegetables, quinoa, hummus, chips, and nuts was brought out. We happily nommed away, and as soon as we tasted the drinks, all concern of price dissipated. The bartender really knew her stuff, giving each of us exactly what we wanted, even though we only gave her a few broad likes and dislikes. My freshly muddled berry cocktail was bright and delicious without being overly sweet, and Nigel could not stop raving about her twist on a vodka gimlet. In the end, any concerns about the price were unfounded – each drink was 10€, cheaper than a cocktail of comparable quality in NYC, and it came with a variety of yummy snacks. These were actually the most expensive drinks we had on the entire trip, but also THE best cocktails. I'd highly recommend Riad Food Garden for aperitivo hour.
For our next stop, we walked over the budget-friendly Dolly Bar, where wine was 5€ a glass, and the aperitivo offerings were laid out like a buffet. The food here was significantly heartier, with a variety of pastas (including a yummy risotto), charcuterie, and cheeses. We sat a table outside and people watched, contently sipping our wine and tasting each other's food picks, until Nigel's phone buzzed, pitched over the edge of the table, and managed to slip right through the grate below! TIP: Don't sit on a table by a grate! We couldn't believe it – one of our phones jumped to its death on our first day??? Nigel was determined not to let it ruin our evening, and resigned himself to letting go, but I couldn't resist asking about it when we went inside to pay. Turns out, the service at Dolly Bar is as good as the food: The owner exclaimed when we told him, then immediately went down to retrieve the phone. The drop was at least a story high, so we were only hoping to save the memory card at this point, but to our surprise, it came up completely unscathed! Luck was on our side, and we were both so relieved.
After all that excitement (and food), we weren't in the mood for a full dinner, but the siren call of gelato could not be ignored. The pistachio from Gelateria Duomo (nowhere near the Duomo, ironically) was absolutely fantastic. We headed back to Hotel Charly afterwards, taking in the night from our balcony.
The next morning, we started our first full day in Europe with complimentary breakfast in the garden. The capuccinos and espressos were perfect and made to order, and the spread of food had everything we wanted, from savory to sweet. We also got to watch the resident Jack Russell Terrier frolic while we ate, which was just great – he reminded me of my childhood doggie 🙂
After breakfast, we showered, packed up, and checked out, leaving our bags with the front desk while we went to see the sights – there is nothing wrong with being a tourist! It was a 45 minute walk to the Duomo, our big destination, but we had time and wanted to explore on the way, so we went for it. Our path took us through Giardini Indro Montanelli, Milan's equivalent to Central Park, and by the DaVinci Monument.
The city was awake and bustling on a Tuesday morning, and the walk through the city gave us a good feel of the fast-paced nature of the metropolis. It is more of a modern city than Rome or other popular Italy destinations, but it is far from sterile.
Pops of color abounded, from pretty florist stands to lush green balconies – the majority of residents seem to be creating their own little oasis on their balcony.
The ornate architectural details were everywhere, and the traditional courtyards we peeked into as we walked by were pretty and inviting.
We strolled through the Vittorio Emmanuelle, one of the world's oldest shopping malls (and definitely the most ornate). My look for this day of walking and traveling (we had a train to Marseille to board that afternoon) had to be both stylish and comfortable, so I immediately reached for my Universal Standard Geneva dress that I got from Gwynnie Bee (and kept through their Try Then Buy program!) and striped slides from H&M (similar). This dress is one of my favorite items in my sizable wardrobe, and is a must-have for traveling.
Aside from luxury shopping (the Vittorio has not one, but two Prada stores, just to get an idea), the open air mall is filled with interesting details. The floors were all marble and mosaic, and the ceiling was paned domed glass that must have been a huge feat of engineering when it was built in 1865.
After walking through the Vittorio, we were greeted by the sight of the grandest architecture of them all – the Duomo Cathedral. It is absolutely massive, and impressive in its grandeur no matter what your religion (or lack thereof). We marveled at it from every angle outside, but couldn't bring ourselves to stand in the absurdly long (and completely unshaded) line of people to tour the inside. TIP: Bring sunscreen and a parasol or umbrella to shade yourself if you are planning to go inside the Duomo! We decided to save that for another trip, and headed in the direction of a place we were arguably more excited about: Piz pizzeria.
I love to research trips in advance to have some good options in hand, and Piz stood out as universally recommended. Everything sounded delicious and affordable, and our expectations were exceeded from the moment we arrived. As we strolled up just after the clock struck noon (literally, we heard the chimes from a curch nearby), we were greeted with a glass of prosecco and a piadina apiece, completely complimentary. The piadina was fresh and delicious, and we got even more excited about the pizza.
And boy did the pizza deliver! The white pizza was one of the best things we've ever had (and that is saying a lot, especially given how much we love food (see: #curvilyeats). The flavors were decadent and perfectly balanced, and we were just so happy. The entire Piz experience was great – the service was friendly and fun, and they give you free shots of house-made limoncello (in a variety of flavors) after your meal. The pizza chef is apparently famous in Italy, and was quirky and charming. We loved this place so much we broke our rule about not going to the same place twice on a trip when we came back to Milan the following week. If you take one of my Milan recommendations, make it this one.
Happily full and in a great mood, we started heading in the general direction of the train station, stopping along the way to shop and browse. We accidentally came across ancient Roman ruins nestled in a side street off a busy shopping avenue, and it felt emblematic of the way history and modernity collide in Milan. We boarded our train to Marseille excitedly, as anniversary trip through Europe was off to a great start. Part 2: France post coming soon!
I'm happy to chat about our experience and give advice too – just leave a comment below.